Visit the Nica Tejidos Facebook page for the most up-to-date news:
New Vendor in San Juan del Sur!

Nica Tejidos products can now be found in San Juan del Sur at Amano (http://amanonicaragua.com/) a home furnishings store owned and operated by Daina Platais.


July 28-August 9 2014: Purchasing, Marketing, Product Development Trip

The focus of this trip was to help the women strengthen their connection to local markets and vendors, introduce a small scarf loom, and help with some organizational issues. We were also able to distribute 50 pairs of reading glasses to community members who needed then thanks to the Reading Glass Projects (http://readingglassproject.org/)! After much deliberation the weaving group also decided on a new name, Nica Tejidos, which they feel better reflects the advancements they've made in the past 5 years and is a little easier to pronounce.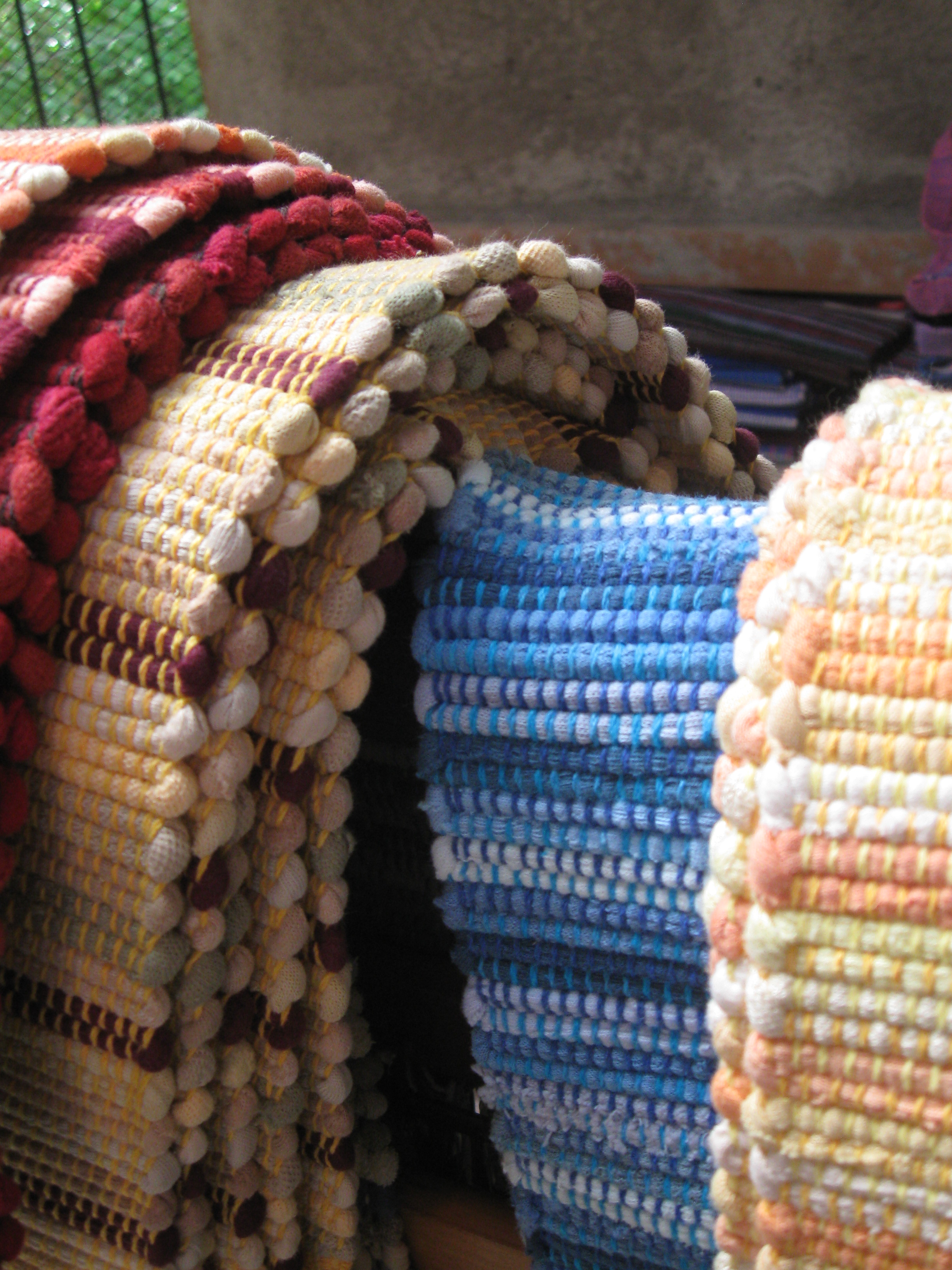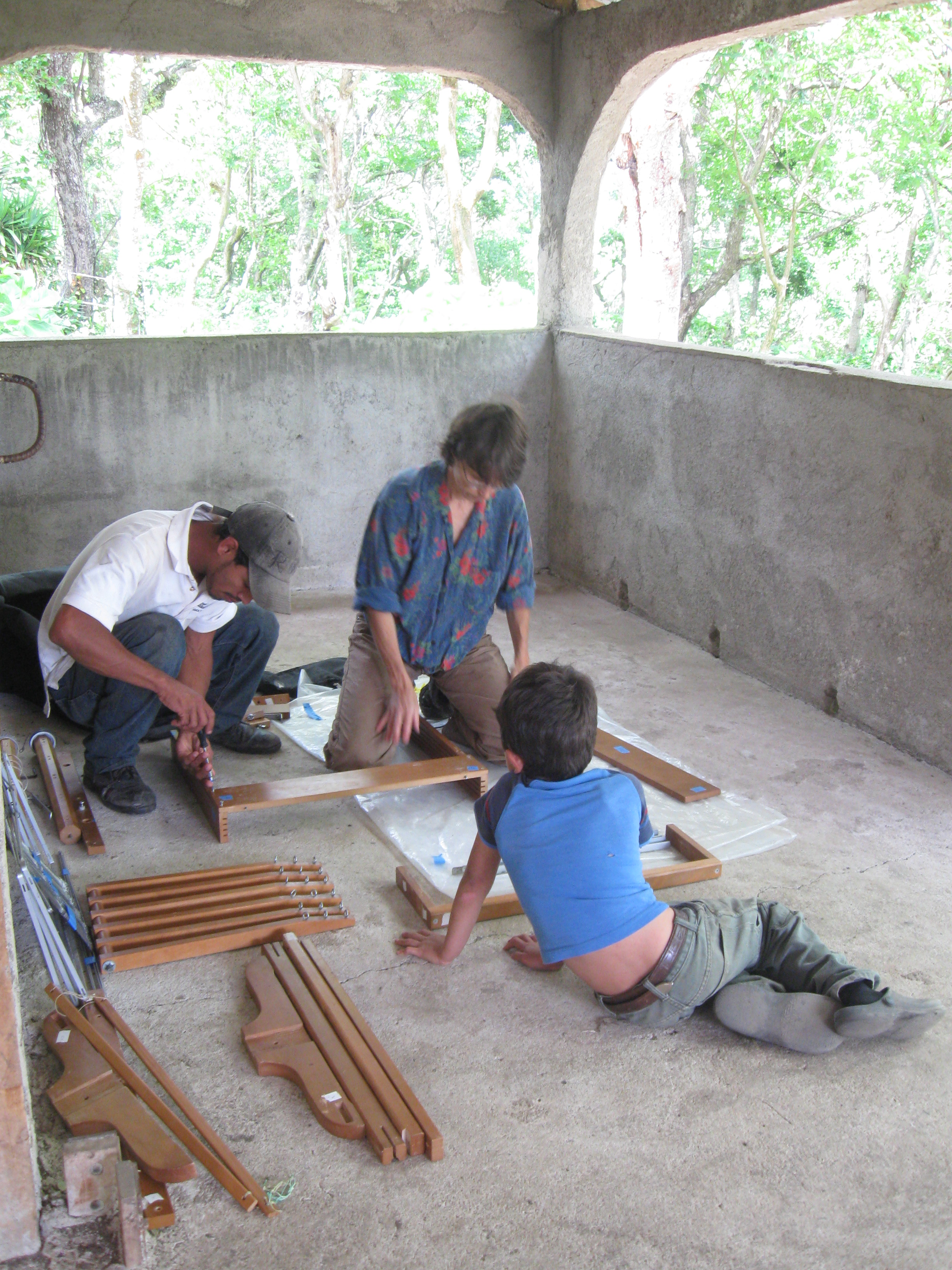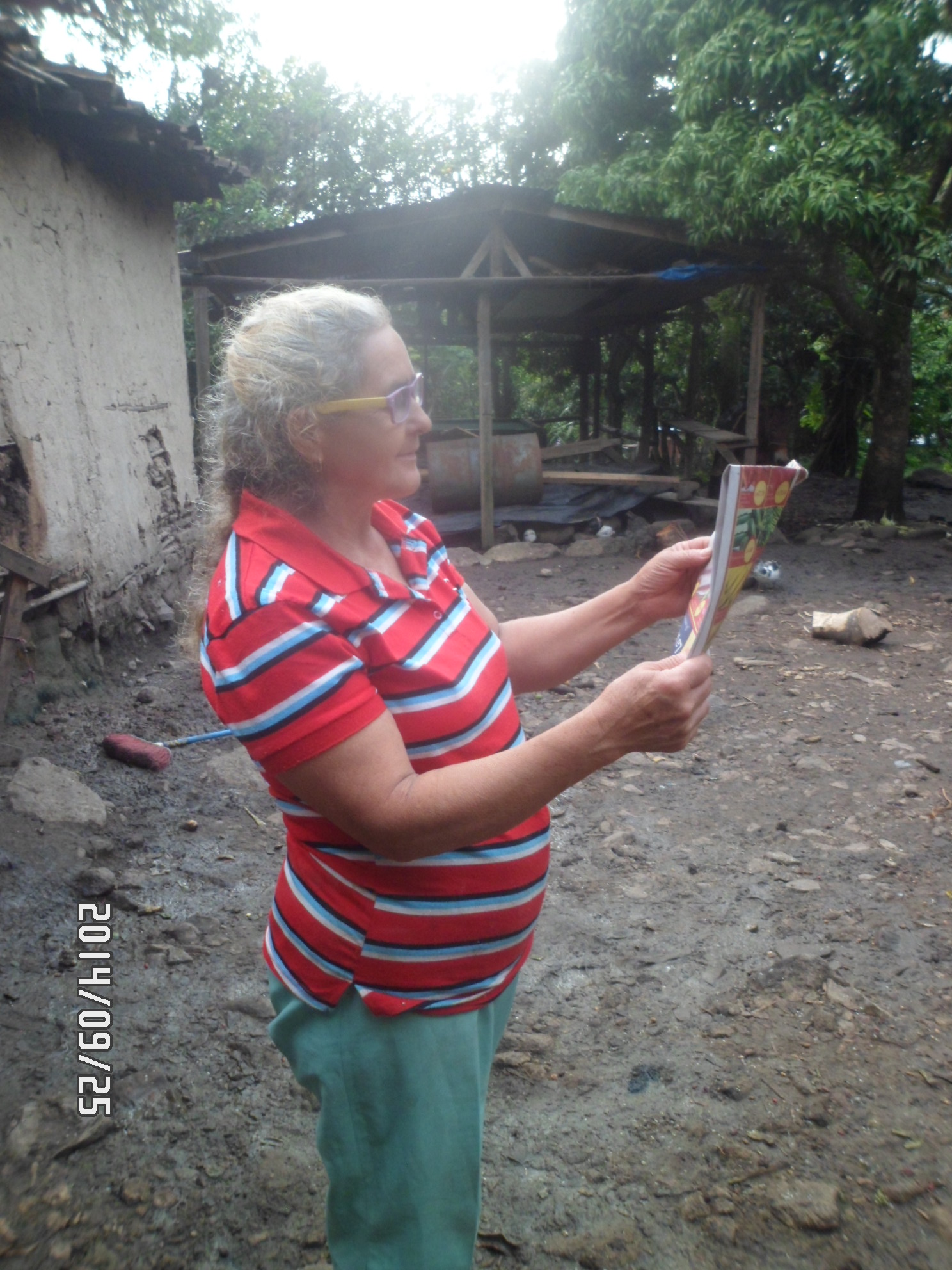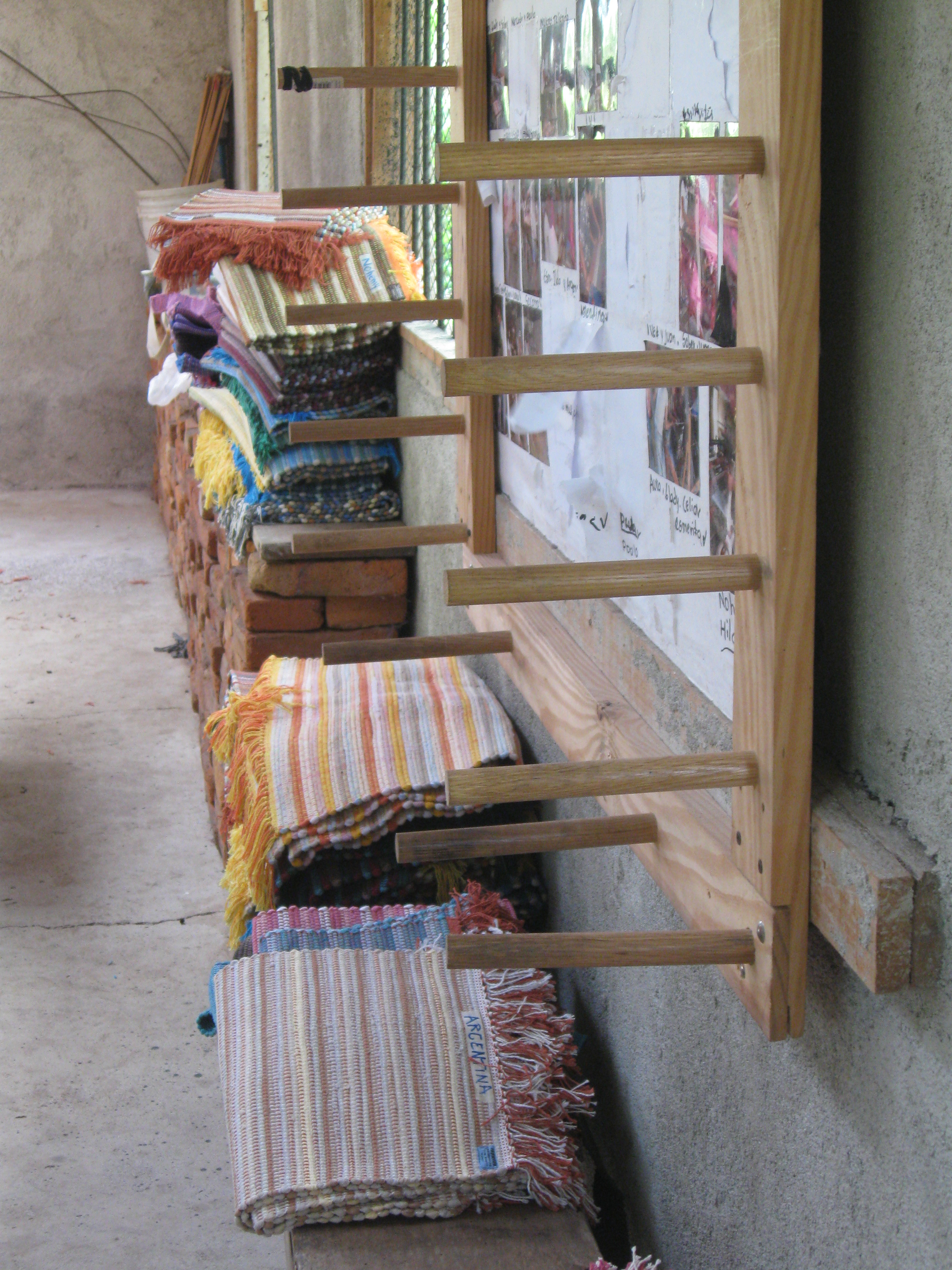 LECLERC LOOM FOR SALE!- SOLD
FABMRON recently received a donation of a Leclerc Nilart 12 harness jack loom from the art department at NCCU. Since the loom is actually too large to be taken to El Ocotal the decision was made to sell it and use the funds to purchase a more appropriate sized loom and additional workspace equipment.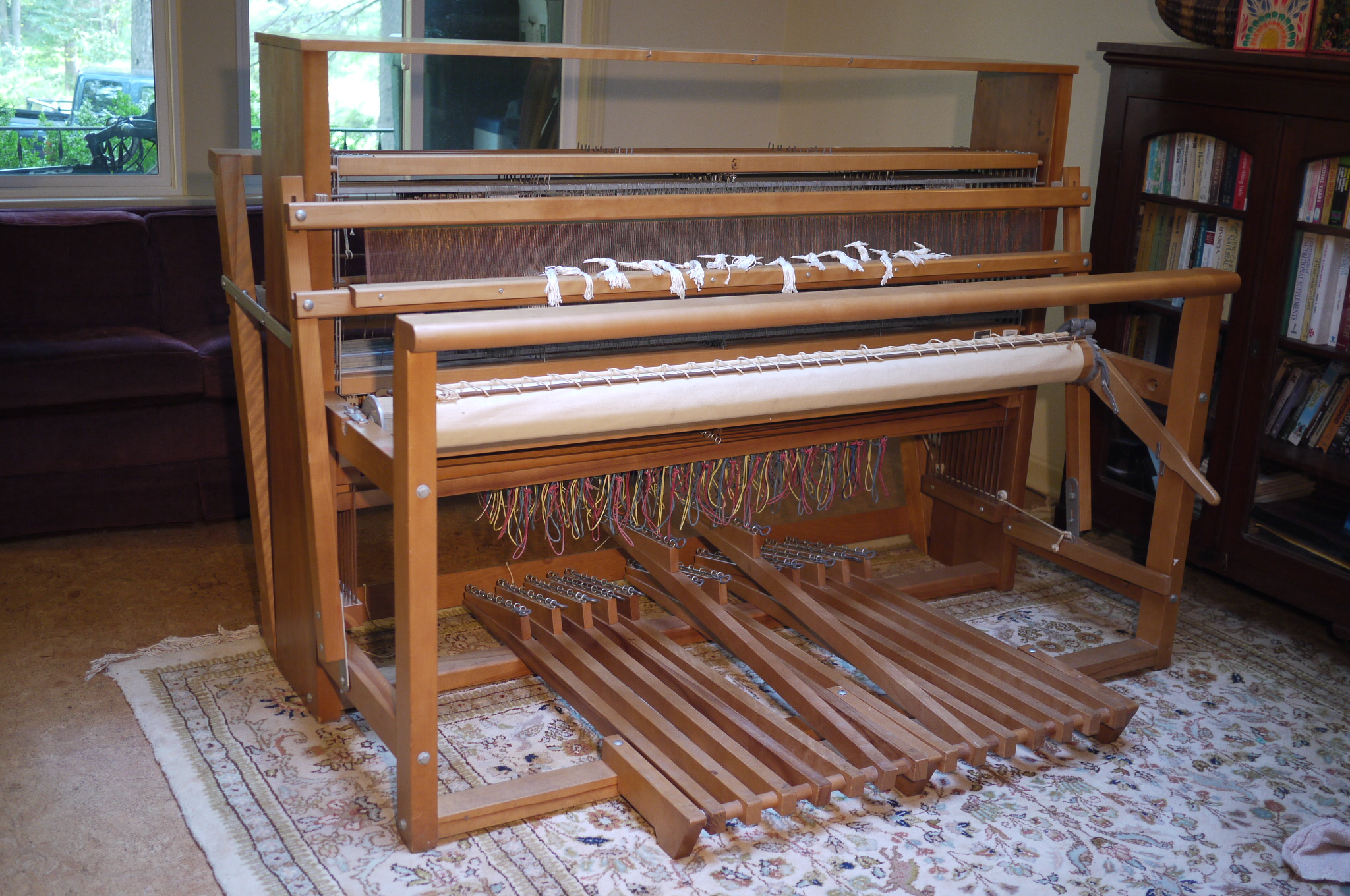 Loom specs: Excellent 60" Leclerc Nilart 12 harness jack loom (NA-60-12L-79-11) with 12 dent reed and non-sectional warp beam. Solid, smooth action.

Located in Chapel Hill, NC. Asking $1,995. Interested parties can contact Carol Blackmore at crowhillrugs@gmail.com or call 919-382-8478.
May 23-June 4th, 2013: Purchasing and Product Development Trip
Thanks so much for your support for the weavers of FABMRON and the village of El Ocotal!
My mom and I got back from a work trip to the village on June 4th. Although affected by digestive "issues", we were able to accomplish a number of things with the help of the women, husbands, sons, and brothers. We installed new harnesses, heddles, and aprons on three of the looms, replaced green and blue skylights with clear ones, built a brick work shelf, and set up play space for toddlers. We had technical and aesthetic work sessions, and several (long!) meetings to discuss cooperative business and management structures. Also, I and several of the women met with another women's artisan cooperative from Managua to exchange ideas and share stories of successes and challenges.
While some of the women were challenged by the subtlety of the colors of our recent order, others were more comfortable with the "tonals" and we are pleased to now offer rugs and mats in softer colors as well as the usual bright ones.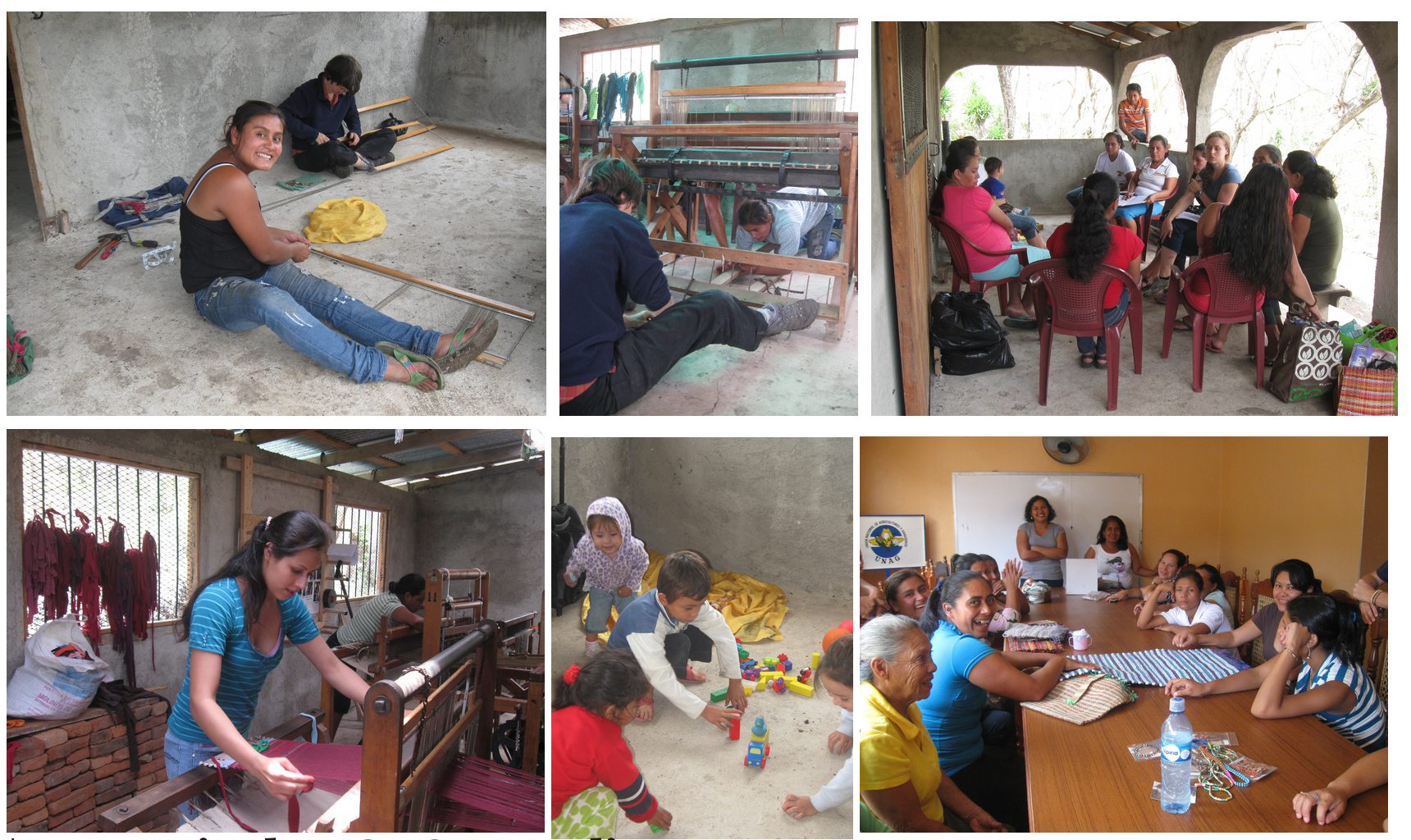 $2,300 raised on Go Get Funding - Thanks for everyone's support! With these much needed finds we can now help take FABMRON to the next level of business and product development!
30 days to raise $3,000! May 4th, 2013- June 4th, 2013

With your assistance we hope to raise $3,000 in seed money to help the weavers of El Ocotal, Nicaragua scale up production and invest in product development. This will allow the women to reach a wider market while continuing to refine their individual artistic sense of color, pattern and structure.

Visit our fund raising campaign on Go Get Funding to learn more!
http://gogetfunding.com/project/take-a-nicaraguan-development-project-to-the-next-level

Depending on your donation level you could be receiving a hand woven FABMRON rug, a set of placemats, a bag or table runner, as a "thank you" gift!


Thanks so much for your support!!
November 2012: Whirlwind one week visit to FABMRON

My mom and I had a short but productive visit with the weavers Oct 31st-Nov 5th. It had all the trappings of a typical Nicaragua trip; just barely catching the last bus up the mountain, walking the final 3 km into the village with several bags of weaving equipment strapped onto horses, eating delicious handmade corn tortilla and spending time with extremely caring, humble and hard working people.The main goal was to set up a four harness loom that had been donated by my mom's friend from Missouri. We were also able to cram in extensive discussions regarding marketing and product development and have a little fun dressing up in old clothes! The trip has also allowed us to restock our inventory. We hope to be soon updating the weavers site on Estsy (http://www.etsy.com/people/ElOcotalWeavers) and participate in several holiday alternative gift fairs. The continual improvement in the women's craftsmanship and design never fails to amaze us!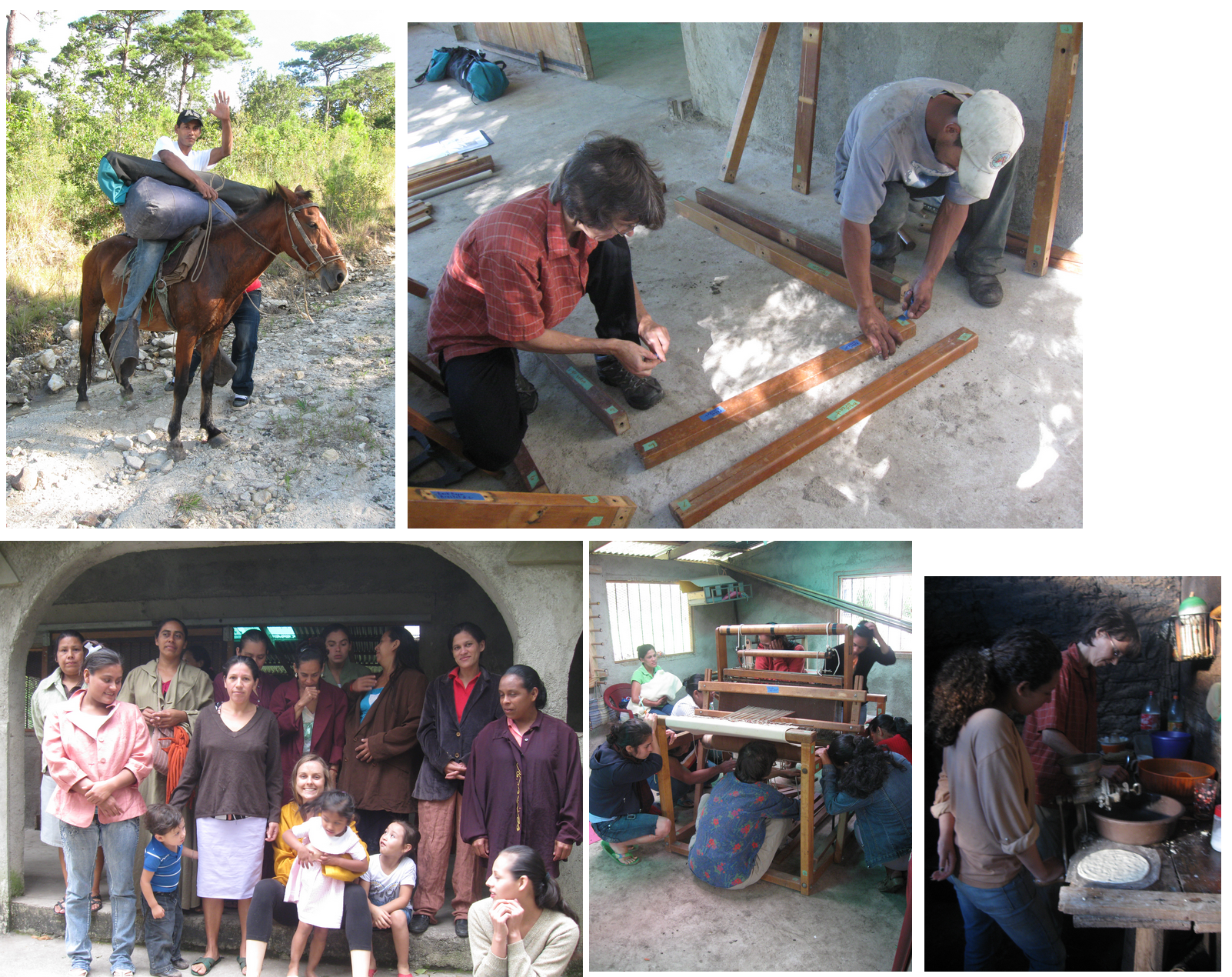 October 2012: FABMRON products now available at Ten Thousand Villages in Raleigh, NC

The Ten Thousand Villages store in Cameron Village (http://raleigh.tenthousandvillages.com/) is now carrying a wide selection of FABMRON rugs, table runners, placemats and bags. Be sure to stop by the store the next time you're in Raleigh to enjoy all the colors, textures and artisan connections FABMRON products have to offer!

September 28th-30th, 2012: 27th International Festival in Raleigh!!
Come visit the FABMRON booth at the 27th International Festival in Raleigh!(http://www.internationalfestival.org/ , Raleigh, NC). We will have a wide range of products available for purchase and we'd love to share with you all FABMRON's recent developments and ideas for the future!
July 31st, 2011: Weaving Workshop completed!!
After 33 days of hard work in tough conditions by all involved, the women's dream of a having an independent workspace has now been accomplished. With the new space, the women hope to increase their production and work towards providing other services to the community as a whole, such as a electric mill to grind corn.
Open House March 27th 1-4pm
On March 27th we will be hosting a open house at 2302 Falls Drive. It will feature new products, opportunities to try weaving, pictures of Nicaragua and the weaving project, and the chance to discuss fair trade, Central America, and Peace Corps. Feel free to stop by at any point between 1 and 4. We look forward to seeing you!
FABMRON to benefit from P.A.C.E grant, March 13th

Dave Worden, a teacher at Carolina Friends School (CFS) and a current recipient of a P.A.C.E grant, which is administered by CFS, will be traveling to El Ocotal, Nicaragua this coming June to help FABMRON with the construction of a weaving workshop. The women are currently working in the villages common house which is dusty and has a tendency to flood during the rainy season. The new workshop will provide the group with a cleaner more secure workspace and allow then to expand and improve production. In addition to the grant, the women themselves are working to contribute $500 and another $1,000 will be added from donations made by groups and individuals. Many thanks to all those who have contributed!

January 2011
A trip to Nicaragua over the winter break found the women of El Ocotal hard at work. They are making full use of the three Union looms and are slowly but surely saving money for the construction of their own weaving workshop. The following are pictures of the women and their husbands beginning to clear the land for the future building! I was also able but bring numerous items back so there is lots of new exciting merchandise!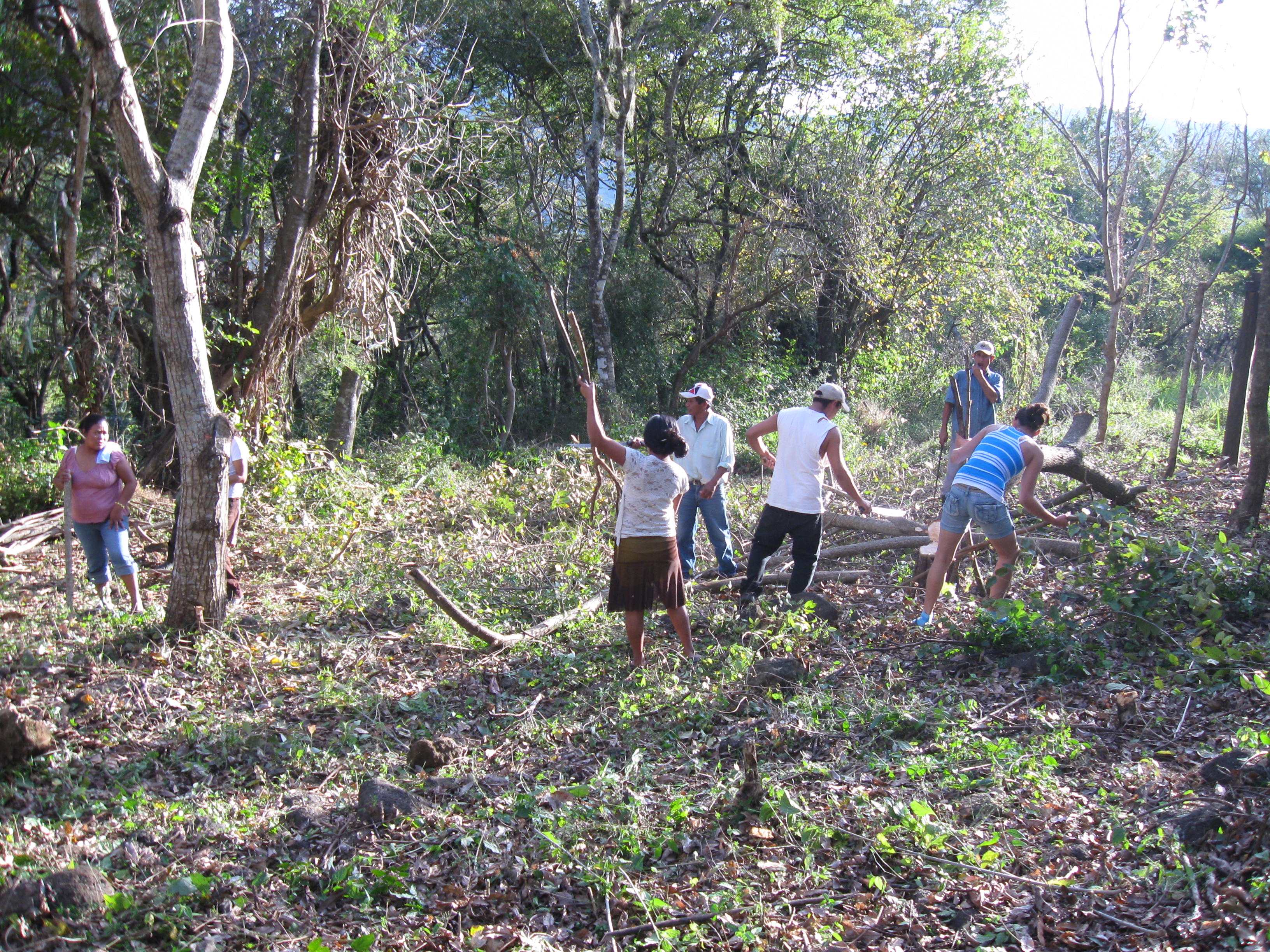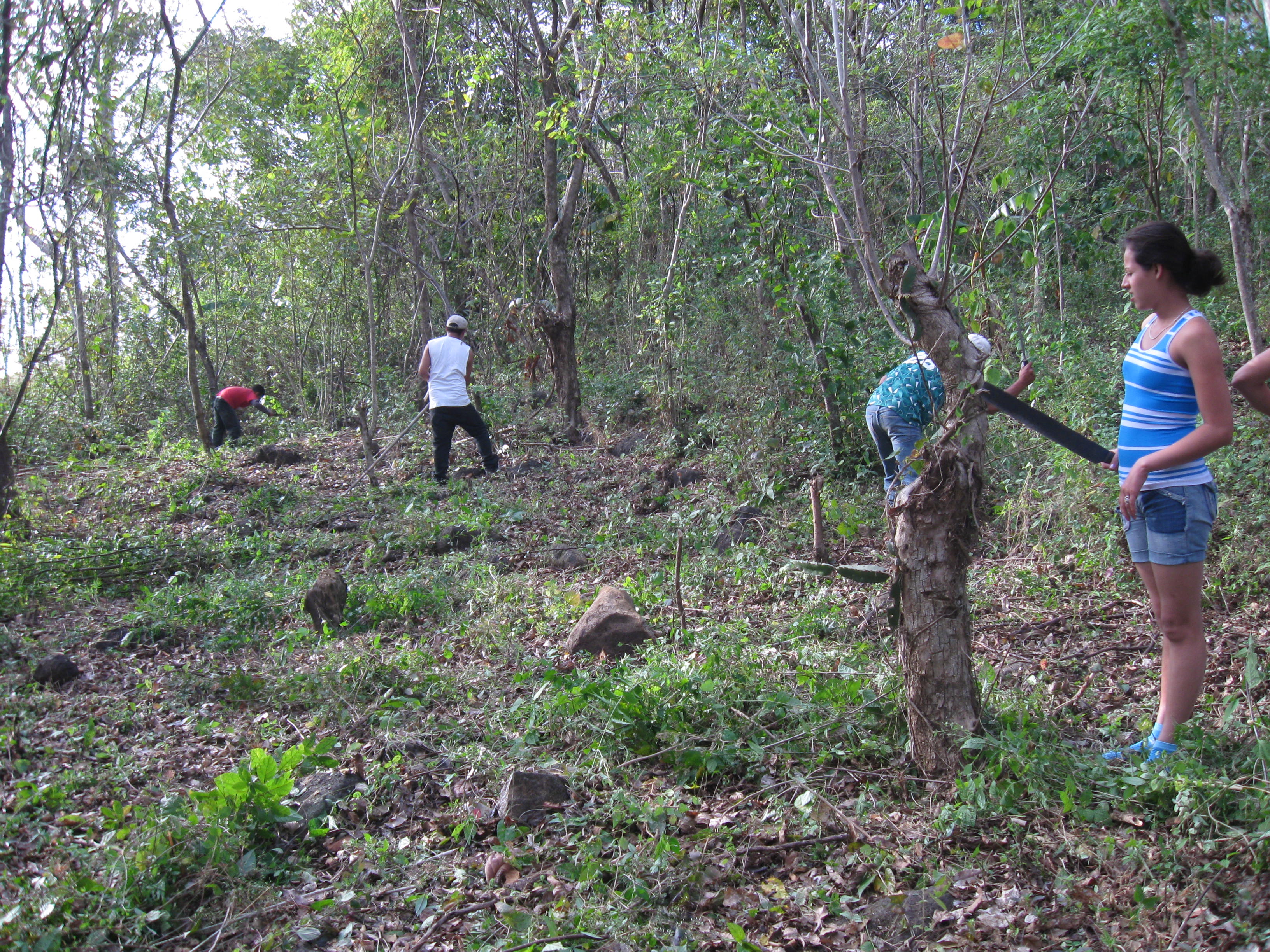 October 2010
Rug Sale & Weaving Demonstration, Saturday October, 9th, 2010 12-3pm
One World Market, 9th Street, Durham NC
May /June, 2010
On a recent trip to El Ocotal my mother, Carol, and I delivered two looms donated by the Art League School in Alexandria, VA, which brought the total number of looms to three. Many thanks to Hugh Force for the express ride from Managua!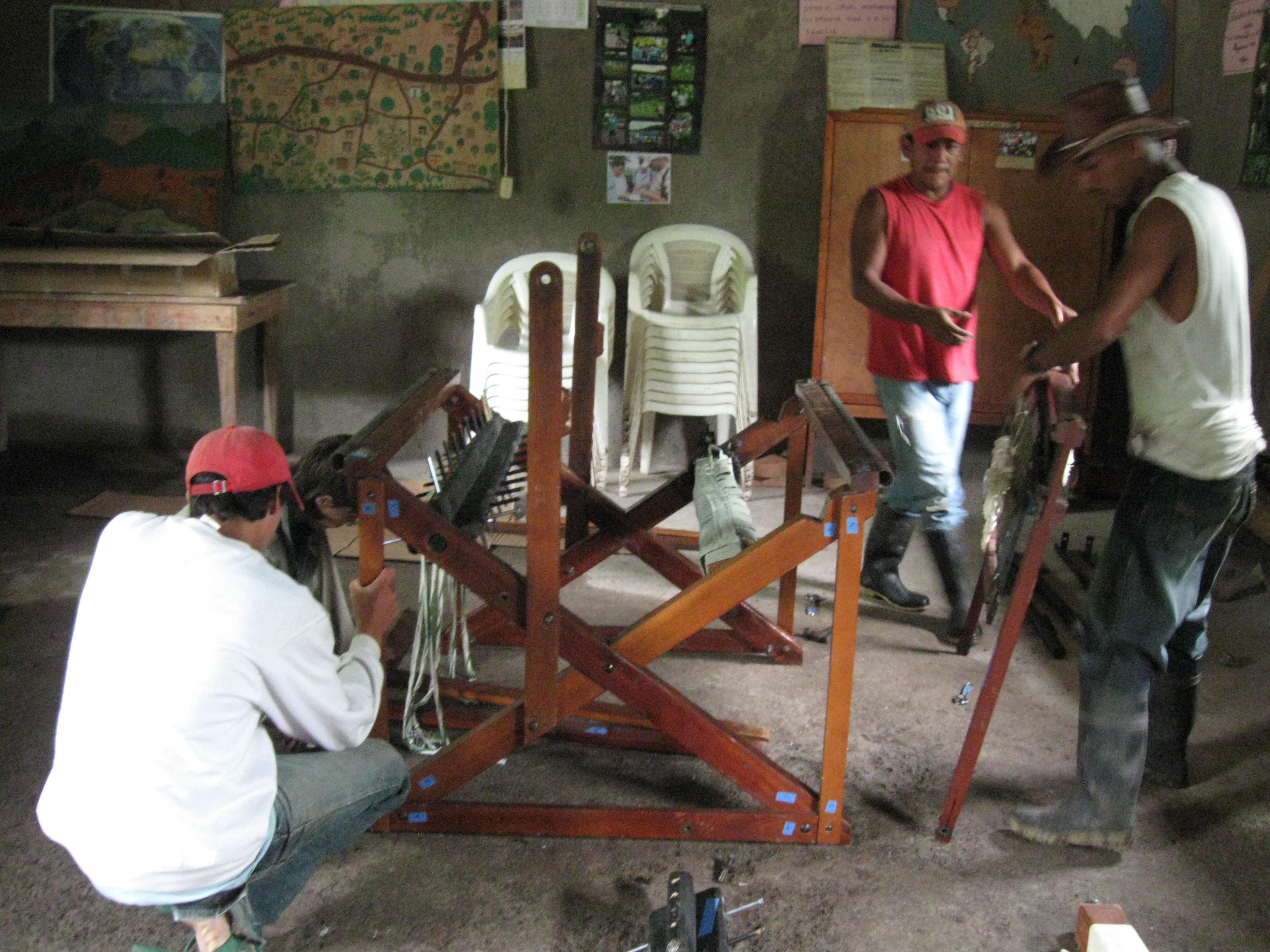 In one morning the looms went from pieces of wood and metal in old ski bags to fully functioning machines. Construction took place in the village's common house and was facilitated by several enthusiastic husbands and sons of the weavers.

The original loom was moved from its location in one of the weaver's homes to the common house. My mother and I facilitated group weaving sessions during a five day period. The women learned improved warping methods, new cloth cutting techniques, and general ways to make a stronger and more attractive product.

By the end of our visit, the women had purchased their own small plot of land with donations from the US. They are excited about the possibility of having their own independent workspace!

© Nica Tejidos 2014